Canada's premier gaming and betting event, Canadian Gaming Summit, gets the 'Affiliates & Advertising' conference track at its 26th edition.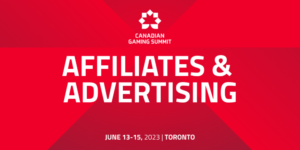 The leading gaming and betting event in Canada – the 26th edition of the Canadian Gaming Summit will include a dedicated conference track called 'Affiliates & Advertising.' This track aims to explore the most effective strategies that affiliates can employ to capitalize on the rapidly growing market of the Great White North.
As the Canadian sports betting and iGaming industry gains significant attention, companies must understand the crucial role of marketing in creating an impactful and user-centred approach. It is essential to recognize the significance of efficient marketing practices in this emerging market.
📢The 'Affiliates & Advertising' track at the 26th Canadian Gaming Summit will delve into the top strategies for affiliates to succeed in the booming Canadian market. 🇨🇦🎮#CanadianGamingSummit

Read More⬇️https://t.co/T477TFLrkC

— SBC NEWS (@SBCGAMINGNEWS) May 25, 2023
The 'Affiliates & Advertising' conference track will take place on Thursday, June 15th, the second core day of the Canadian Gaming Summit, hosted at the Metro Toronto Convention Centre. Throughout the day, attendees will have the opportunity to participate in a series of expert-led panels, covering a wide range of topics. These panels will delve into subjects such as the utilization of data to comply with responsible gambling regulations, consumer response to sports betting advertisements, and the effective use of omnichannel marketing in engaging campaigns.
The conference track will kick off with the panel titled 'Brave new world: unlocking success for Affiliates in the Canadian Market.' During this session, affiliate experts will explore how a comprehensive understanding of player preferences and betting habits can lead to successful product launches and increased conversions. As the Canadian iGaming landscape continues to thrive, affiliates must tailor their marketing strategies and technologies to cater specifically to Canadian players in order to fully capitalize on the market's potential.
Bill Pascrell III (Principal, Princeton Public Affairs Group) will moderate the panel, which features esteemed experts, including JD McNamara (Country Director Canada, Better Collective), Cassie Brickman (Managing Director, Betting Hero), Andrew Garven (Head of Marketing, Covers), and Marcos Oliveira (Chief Operating and Commercial Officer, Clever Advertising).
Another panel, titled 'Analyze this: leveraging data for enhanced customer engagement across channels,' will emphasize the importance of data and its role in maximizing customer engagement. Given that players are entering new and untested iGaming and sports betting markets, the panel will discuss how affiliates can learn from well-established digital industries like social media and eCommerce regarding good data governance, analysis, and collection.
The panel will be moderated by Robert Davidman (CEO, Slapshot Media) and will include distinguished speakers such as Dave Rivers (SVP Marketing, PointsBet Canada), Kay Savage (Head of Data Science, BetFanatics), Gavin Whiteley (Chief Marketing Officer, Great Canadian Entertainment), and Kevin Collins (Co-Founder & CTO, Xtremepush).
The final panel, 'Maximizing customer conversions through innovative omnichannel marketing,' will focus on the significance of hybrid marketing models that seamlessly integrate both online and offline experiences. Experts will discuss how leveraging innovative user analytics, enhancing customer experience (CX), and providing customer choice can optimize user engagement and ensure a mutually beneficial player share for both iGaming and land-based organizations.
The panel will include expert speakers such as Nic Sulsky (Chief Commercial Officer, PointsBet Canada), John Gordon (CEO, Incentive Games), Jai Maw (President, Betting Hero), and Rome Smith (Head of Marketing North America, Betsson Group), with Jesse Learmonth (Betting Startups Podcast) serving as the moderator.
In addition to the comprehensive conference agenda, the summit will feature a trade show showcasing product launches and new game releases. Attendees will also have ample opportunities to network with industry professionals at some of Canada's most renowned venues.