Premier gaming and betting event of the Great White North, Canadian Gaming Summit, gets the 'Payments & Compliance' conference track at its 26th edition.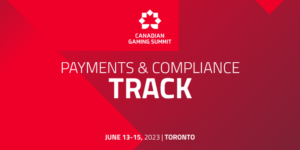 Canada is ready for the most prestigious gaming and betting event in the country – an exciting 26th edition of the Canadian Gaming Summit. This year, the summit will host a dedicated conference track called 'Payments & Compliance,' providing an in-depth exploration of financial practices in the Canadian market.
Taking place on Thursday, June 15th, the 'Payments & Compliance' track offers a platform for delegates to engage in discussions about various topics related to financial institutions, the role of payment technology in enhancing user experience, alternative currencies, and the modernization of AML Regulations while collaborating with the Federal Government.
Kicking off the conference track is the panel titled 'Integrating Cashless Systems Across Products: Embracing Omnichannel Technology for Customer Choice and Compliance/Security.' This session aims to address the increasing pressure faced by land-based casinos to transition to completely cashless payment and reward systems. The panel will delve into the question of whether omnichannel payment systems can serve as a favourable compromise.
The industry-led panel features distinguished experts including Bob McDonald (Technology Lead, River Cree Resort), Nasr Sattar (VP Innovation Group, NRT Technology), Lindsay Slader (SVP Compliance, GeoComply), and Tamara Tenenbaum (SVP of Business Development and Managing Director-Canada, Sightline Payments). Together, they will explore the desirability of 100% cashless systems for businesses and whether customer preferences should always take precedence.
Following this engaging discussion, the conference track moves on to 'The World of Gaming Finance in Canada.' This panel will showcase finance leaders presenting effective strategies for companies to collaborate seamlessly with financial institutions, and public and private investors to secure funding for their Canadian operations.
Industry experts such as Scott Secord (Partner, Cardinal Sports Capital), Julian Kolb (Vice President, BFL Canada), Aadam Tejpar (Partner, Corporate and Securities, Segev LLP), and Dani Lipkin (Managing Director Global Innovation, TMX Group) will share their insights and experiences. The panel will be moderated by Mark Silver (Founder & CEO, The Parleh Group).
Another intriguing panel, 'Cybersecurity: Mitigating Risks in a New Market,' will delve into the challenges faced by new online operators in combating cybercriminals and hackers. Esteemed panellists Sunil Chand (VP of Cyber & Information Security, OLG), Jarvis Pelletier (VP IT & Gaming Systems, SIGA), David Brace (Director of Innovation, Continent8), and Carmi Levy (Director of Comms, Step Software) will draw lessons from the experiences of land-based operators and other industries in safeguarding revenue, reputation, and, most importantly, customer trust.
In addition to these captivating discussions, the conference track will feature a range of stimulating panels exploring innovative finance practices, compliance strategies, and the critical role of payments in acquiring new customers and fostering customer loyalty. Get ready for a day of insightful conversations and valuable takeaways.